Anime Expo 2003
You were there!
<![if !vml]>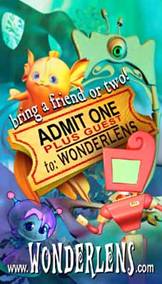 <![endif]>
Many thanks to all who braved the heat & the crowds for another great Anime Expo!
MANY thanks to the 1,500 of you who visited the WONDERLENS booth and played our ping pong toss game, thus forcing us to chase after 4500 cursed ping pong balls!
(note to myself: next year, V E L C R O ! )
<![if !vml]>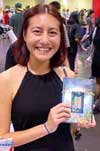 <![endif]>
Here's just one of the highly skilled anime fans who won a DVD!
<![if !vml]>
<![endif]> <![if !vml]>

<![endif]> <![if !vml]>

<![endif]>
…and here are some of the courageous players who dared to mix
Cosplay and Ping Pong Throwing!
(more action photos are posted at www.WONDERLENS.com )
So what's to do now that AX2003 is over?
Why not stop by the ROBOT CANTINA and help solve the MYSTERY of ASTRAL GEODE!
It's a mystery set inside a robot's blog. New clues are added each day, Monday – Friday.
<![if !vml]>

<![endif]>
Or visit the WONDERLENS ATTRACTIONS and download some animation.
(suitable for all ages!) Play some GAMES , check out an ALIEN BIRTHDAY PARTY
AND collect some free PRIZES & SURPRISES !
More good Anime Expo News!
We are extending our Special Show Price:
$20 for the SIGNED, Limited Edition Collector's Bundle.
This special set includes the Wonderlens animated DVD, SIGNED by the show's creators, (Jimmy Neutron, Addams Family, Casper, Kung Pow, Thumb Wars & more!) a limited edition (250 maximum) character model sheet SIGNED by the artist, plus toys & surprises!
Total price is $25 ($20 plus $5 for shipping & handling)
(regular retail price is $24.95 for the DVD alone)
Show price valid through AUGUST 2003, as supplies last.
for info on how to order!
Or just say hi!
NEW WORLDS of FUN on DVD!
Check out our TV guest appearance on The Screen Savers on
And last but not least:
The Wonderlens Winners!
SIX people threw wining ping-pong balls into the Sentry's Eye and won DVDs!
EIGHTEEN people threw winning balls into the cup and won Mardi Gras beads.
THREE winners were chosen for the WIN-a-DVD drawing and have been notified by email.
They are: Twila, Michelle R and Victoria
Congratulations to all the winners & many thanks to all who played!
Thanks for visiting us!
Best wishes,
Joe & Susan